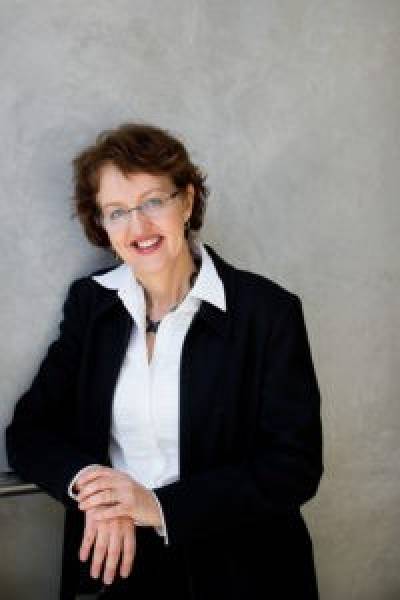 Queensland Brain Institute, Brisbane. 2016.  Photo: Patrick Hamilton
Biography:
Professor Linda J. Richards AO did her undergraduate degree at Monash University and obtained her BSc (Hons) and a PhD from The University of Melbourne and The Walter and Eliza Hall Institute in the laboratory of Prof. Perry Bartlett. Her thesis was on the determination of neuronal lineage in the developing spinal cord. She then moved to the USA to complete a postdoctoral fellowship at The Salk Institute for Biological Studies where she worked with Professor Dennis O'Leary on cortical development and formation of the lateral cortical projection through the internal capsule. She began her independent laboratory at The University of Maryland Medical School in 1997, in the Department of Anatomy and Neurobiology chaired by Professor Michael Shipley. In 2005 she moved her laboratory to The University of Queensland and was appointed as an Associate Professor in the Queensland Brain Institute and The School of Biomedical Sciences and in 2006, she was appointed as an NHMRC Senior Research Fellow. In 2010, she was promoted to Professor at The University of Queensland and promoted to NHMRC Principal Research Fellow in 2011. In addition to running her laboratory, Professor Richards is passionate about informing the public about science. In 2006 she founded the Australian Brain Bee Challenge, a program that inspires and excites high school students about science. She has recently become the scientific advisor for the patient support group AusDoCC – "Australian Disorders of the Corpus Callosum".
In May 2017, Linda was honoured for her support of AusDoCC with the award of inaugural Patron of AusDoCC.
In October 2018 she was appointed to the Federal Government's Million Minds Mission Advisory Panel.
In 2019 Linda was appointed an Officer (AO) of the Order of Australia (General Division). She is a Fellow of both the Australian Academy of Science and the Australian Academy of Health and Medical Sciences and is a National Health and Medical Research Council Principal Research Fellow. She is Past President of the Australasian Neuroscience Society and Co-Chair of the Australian Brain Alliance.
Research Interests:
The laboratory of Prof. Richards is located at the Queensland Brain Institute, Brisbane, Australia (http://www.qbi.uq.edu.au/) and is investigating all aspects of the development of the corpus callosum.  There are many different developmental mechanisms involved in forming a normal corpus callosum. These include the development of neurons and glia in the brain as well as the growth and guidance of neuronal axons from one hemisphere to the other, providing important connections between neurons in each hemisphere.  Malformations of the corpus callosum represent changes in brain wiring and may affect brain function.  In studying these mechanisms our research aims to find the causes of corpus callosum malformations and to understand how changes in corpus callosum development can affect brain function. This fundamental research will lead to a greater understanding of the mechanisms controlling correct brain wiring and how enhancing these may improve brain function.
Publications:
A list of Prof. Richards's recent publications can be found here: http://www.qbi.uq.edu.au/group-leader-richards